Our Licensed & Registered Therapists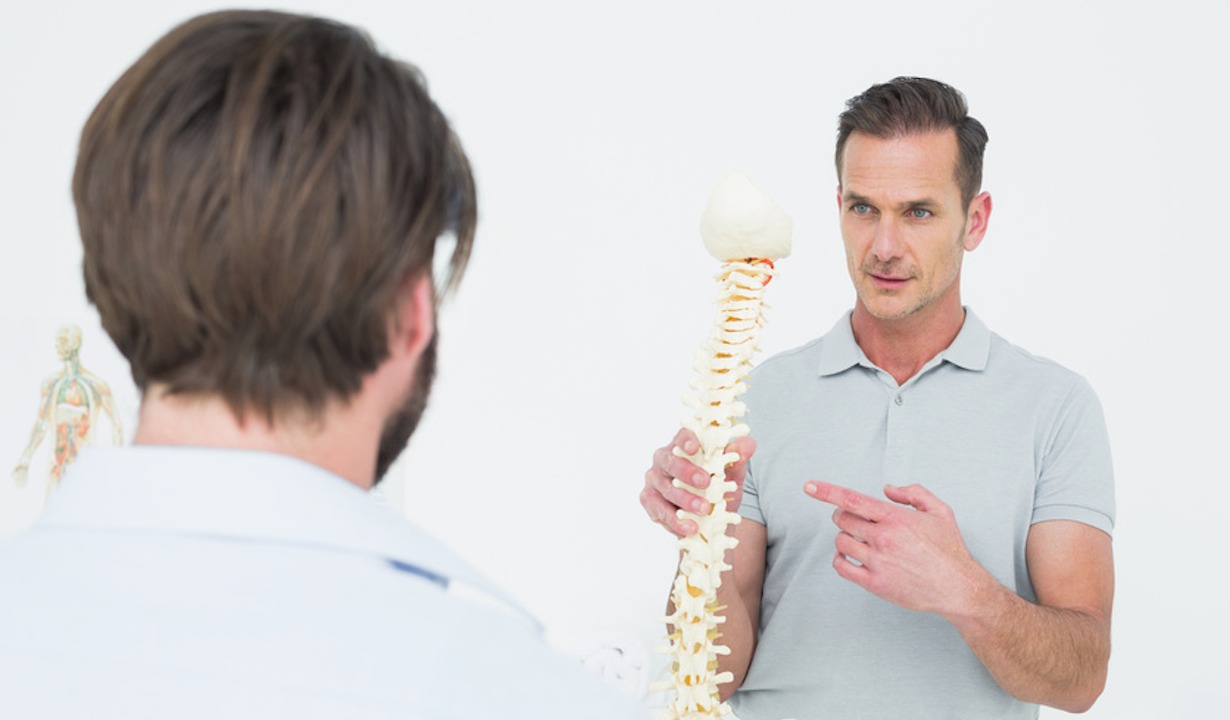 Our Team
Sage Health and Wellness Clinic is proud to work with a talented group of practitioners. Each individual brings their own unique skills and interests for the greater good of our clientele.
MEET OUR TEAM (Click on the names below to view their profiles)
AMIRA PINSKER, R.Ac Registered Acupuncturist

Amira came to acupuncture through a lifelong love of nature and a desire to help people take control of their health. She holds a Master of Acupuncture degree from the Maryland University of Integrative Health, where she also taught and acted as a supervisor in the student clinic. Amira studied Zero Balancing bodywork with its creator, Dr. Fritz Smith, and is currently a certification candidate with the Zero Balancing Health Association. As well, Amira trained in facial rejuvenation acupuncture with Kate Kent at the Shiatsu School of Canada, and is certified as a personal trainer through the National Strength and Conditioning Association and through the National Acupuncture Detoxification Association as an Acupuncture Detoxification specialist.
Amira works with each patient to create treatment plans that address underlying issues which give rise to diverse symptoms. She is particularly passionate about working with people dealing with stress, depression, and anxiety. Using acupuncture, related manual therapies such as gua sha and cupping, and Zero Balancing, Amira helps you to build a stronger immune system, lessen pain in the body, and live with greater ease and balance in body and mind, allowing your body to better heal itself. She includes Chinese medical nutritional counseling and health coaching in every course of treatment.
The stresses of modern life can be counteracted by living mindfully and learning to care for yourself in a more effective way. If you have chronic stress, pain, or other issues you would like to explore, Amira offers a free 15-minute consultation.
CHAGWANG GAREL, Zen Shiatsu Therapist and Registered Massage Therapist (RMT)

Chagwang graduated from Kokoro Dojo's Zen Shiatsu Diploma program in 2000 and participated in the continuing studies program until 2008. She supervised the student clinic, took part in the mentoring program and sat on the board of directors for the Canadian Practitioners Association of Chinese Medicine (CPAAM).
Chagwang completed a 2200 hour program for Swedish Massage Therapy in 2015 and now offers both Zen Shiatsu and RMT treatments as well as an integrative hybrid treatment that combines both modalities.
Chagwang has experience in treating low back pain, hip pain, menstrual issues, headaches and migraine, anxiety, insomnia and she has a growing interest in repetitive strain injuries.
ROBIN GUILLEN - Osteopath

Robin is a French Osteopath graduated from ISOsteo Lyon, one of the oldest osteopathic school in France.
He has always been interested in studying health, and the holistic philosophy of Osteopathic Manual Therapy aligned with his idea of what healthcare should be like.
He gained international osteopathic experience by working in France, Madagascar, and Senegal in clinics but also as a volunteer which is very important for him.
Robin prides himself in taking the time to listen to his patients, physically assessing in order to understand their individual needs, and using all the treatment therapies at his disposal (visceral, craniosacral, muscular, structural, functional, strain-counterstrain, myofascial release, GOT).
Osteopathy is preventative as well as curative, it is suited to all age groups (neonatal to senior, pregnant women, sports) and for general concerns like stress, sports injuries, head, and digestive pain or pediatric trouble etc.
MIENA NAKAMURA, RMT - Registered Massage Therapist

Miena graduated with honors from the Canadian College of Massage and Hydrotherapy in 2013 with an additional hospital specialization certificate.
Miena is constantly striving to expand her knowledge of the human body and learn additional techniques and modalities to use in her treatments.
Miena treats clients for a wide variety of musculoskeletal conditions such as postural imbalances, repetitive strain injuries, compression syndromes, vertebral disc injuries, and headaches.
She tailors each treatment plan to match the client's needs and goals including relaxation, deep tissue work, pre-natal massage, lymphatic drainage, and sports massage.
Miena grew up in Caledon, Ontario and previously spent nineteen years training as a classical pianist.
PIERRE BOACHON, Osteopathic Manual Practitioner D.O (M.P)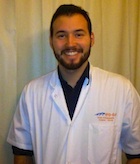 Pierre graduated from the IFOGA in Avignon, France. He is trained in structural, functional, visceral, craniosacral, Jones (Strain-Counterstrain), Mitchell (muscular), GOT and pediatric Osteopathic treatments. He was also selected as part of the medical team for the motorcycle and ATV rally race "Raid Passion Désert – Morocco" in 2014.
Pierre was always convinced of the mind-body-spirit relationship and began his studies focusing on both physiotherapy and psychology. He began to understand the importance of the holistic approach to illness and disease. He discovered Osteopathy by attending a consultation, and it was a revelation!
The overall management of patients as people, not symptoms – listening, caring, the proximity of the therapist, the self-healing concept and the potential of the practiced-hand – persuaded him to dedicate himself exclusively to the study of Osteopathy.
With Pierre, you will share the diagnosis and his comprehension of your body messages, allowing him to come up with the adequate and treatment that will free you from pain, which has disabled you from optimizing your well-being.
People seek osteopathic treatment for more than just back pain, some of which includes General concerns, Perinatal, and Pediatric pain, Head, Visceral and Digestive trouble etc.
SHERI FOGARTY - Certified Reiki Master & Licensed Holistic Practitioner

Sheri is an energy healer who has worked for over 20 years with individuals committed to healing their emotional pain and creating happiness in their lives.
Sheri began her own healing journey at a young age which was motivated by a deep desire for happiness. This path led her into the world of natural healing and meditation. She was one of the first Reiki students in Canada and contributes her experiential learning of Reiki and energy healing to her ability to work effectively with others in healing on a soul level. She studied Shiatsu with Tetsuro Saito who introduced Shiatsu to Canada. Shiatsu provided Sheri with a deeper understanding of Ki energy and the importance of energy being able to flow within the body.
Healing the emotional body:
The emotional body contributes greatly to our level of happiness and health. The emotional body holds memories, negative and positive, and influences how we experience the world, how we react to situations and how happy we are. Eckhart Tolle refers to the negative experiences we hold in our energy body as the 'emotional pain body'. To experience happiness, which is our natural state, we must clear the emotional blocks to allow the Ki energy to flow, opening our chakras and raising our vibration which results in better health physically, mentally, emotionally and spiritually.
Reiki Chakra Therapy:
Reiki Chakra Therapy is a unique healing session created by Sheri which combines the elements of Reiki, Chakra Balancing and talk therapy. During the healing sessions Reiki energy (spiritual healing energy) enters the energy body through the chakras bringing a high vibration of love and light to the person receiving the healing. Reiki is a gentle but powerful healing energy. Sounding which helps to release the energy block and crystals which emit a natural healing energy are used to help raise the vibration of the energy body.
Professional Qualifications:
Certified Reiki Master and Licensed Holistic Practitioner
Certified Wellness Counsellor & Mentor, Hawaii Wellness Institute
Certified Contemplative End of Life, Naropa University, Rigpa
Certified in Psycho Dynamic Studies, Centre for Training in Psychotherapy
Certified Advanced Shiatsu Therapy, Shiatsu Centre, Toronto, Canada
Certified Aromatherapist, Prima Vera School of Aromatherapy
Licensed CARE Wellness Coach
Member of the Japanese Shiatsu & Holistic Medicine Society of Canada
In addition to her private practice Sheri consults to Roots of Empathy, a Canadian Charity, in their global expansion of empathy based programs. Sheri is one of the first CARE Wellness Coaches in Canada providing workshops to corporations on creating empathy in the work place. Sheri has travelled extensively working with individuals and teaches Reiki, Meditation and Aromatherapy. Sheri has volunteered at Sick Kids Hospital working with children with cancer.
Vanessa Da Costa - RMT - Registered Massage Therapist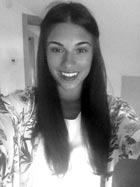 Vanessa graduated from Guelph University with a Bachelor of Applied Science in Kinesiology after graduating from Fitness and Health Promotion at Humber College. She worked with several fitness facilities and interned with an orthopaedic Surgeon for post-operative care and Ryerson's University Varsity team.
Vanessa furthered her clinical studies in Massage Therapy at Sutherland Chan School and had cupping training at the Ontario College of Traditional Chinese Medicine.
Her massage therapy experience includes working in sports clinics, wellness and relaxation, pregnancy clinic, oncology department, palliative care, multiple sclerosis facility, fibromyalgia patients and addressing postural imbalances.
Some techniques included within Vanessa's treatments are myofascial release, movement cupping, proprioceptive neural facilitation, trigger point release, GTO, Swedish massage, hydrotherapy, frictions and pin & stretch.
Yoshio Toyama, R.Ac.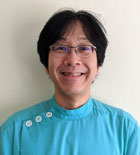 Yoshio graduated from Goto College of Medical Arts and Sciences in Tokyo, Japan. After graduating, he worked at a hospital to treat seriously ill patients by utilizing shiatsu and acupuncture. He also participated in maintaining general health and care at a small community practice. In 1992 he moved to Canada, and worked as an associate to Dr. Tim Tanaka's clinic in the Yorkville Area, Toronto.
His main area of practice include (but not limited to):
Abdominal Shiatsu Massage
Acupuncture (Japanese Licensed/Ontario Registered)
Acupressure
Anma Japanese Massage
Shiatsu Therapy (Japanese Licensed/Ontario Certified)
Ching-I (Mandy) Tsai, RMT - Registered Massage Therapist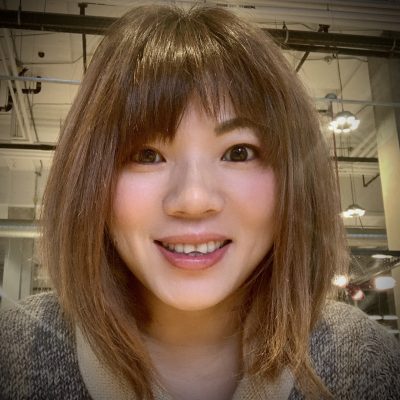 Mandy believes that manual therapy plays a huge role in preventative medicines, a key to preventing injuries as well as stimulating the parasympathetic system to help relieve stress while maintaining a holistic approach to full body wellness.
While growing up in Taiwan, sports have always played a big part Mandy's life. She participated in competitive team sports, which gave her a good insight into massage therapy and injury rehabilitation. It led Mandy to step onto the path as a health care practitioner in Toronto. 
Mandy graduated from the Canadian College of Massage and Hydrotherapy (C.C.M.H) and has continued her education by specializing on pregnancy massage and sport massage. Mandy is also a member in good standing with the College of Massage Therapists of Ontario. During her practices, Mandy has had great success working with clients who have a multitude of conditions such as:
Low back and Hip pain

 

Pregnancy Related Discomfort

 

Injury Rehabilitation
Sciatic Pain

Neck and Shoulder pain

 

Headaches/ Migraine

 

Arthritis

 

Stress and Anxiety
Mandy has tremendous joy working with people from all ages using a clinical approach that is tailored to each individual's special needs to help restore their state of balance. Mandy enjoys employing deep tissue massage for both therapeutic and relaxation purposes utilizing a variety of techniques from acupressure, Swedish massage, perinatal, sport massage, active soft tissue release, facilitated stretching, lymphatic drainage, joint mobilization to advanced myofascial release into her treatments to help alleviate clients' discomfort. More than anything, Mandy strives to connect with her clients and empower them to reach their optimal health goals. 
Being a Registered Massage Therapist is truly a blessed journey for Mandy. She feels honored to be a part of your health & wellness team.
Ilinca Carbureanu - R.M.T (Registered Massage Therapist), Craniosacral Therapist and Reiki practitioner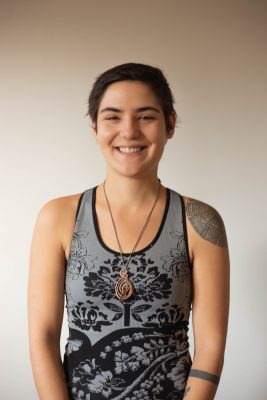 Ilinca graduated from the Canadian College of Massage and Hydrotherapy in Toronto in 2018. While in school, she took a special interest in prenatal massage and treated clients in high risk pregnancies. In addition to prenatal training, Ilinca is also a Craniosacral Therapist and Reiki practitioner.
She makes it her goal to safely and effectively treat every client. She has always worked in a clinic setting and values collaborative environments.
She has previously focused on clients who experience migraines, tension headaches, repetitive strain injuries, SI joint dysfunction, and upper/lower back pain. She practices General Swedish Massage which includes deep tissue techniques, myofascial techniques as well as relaxation techniques.
Leslie Traill, NLP – Astrologer and Meditation Coach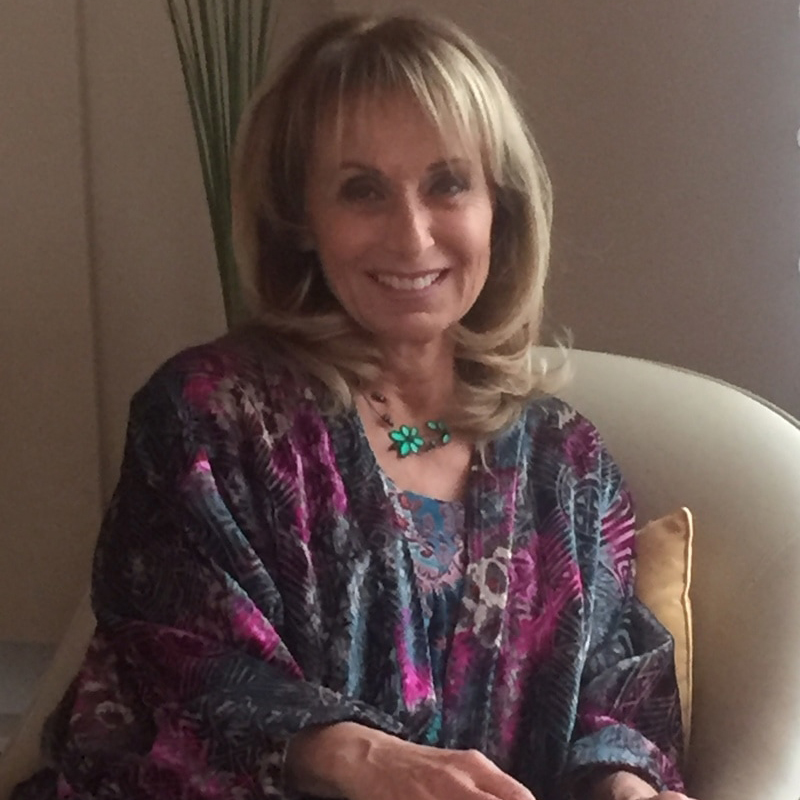 Internationally known television personality, speaker, author and Certified N.L.P. (Neuro-Linguistic Programming) Practitioner/Coach Leslie Trail has been a leader in the science of astrology since 1978. Leslie is also a skilled meditation coach who utilizes her talents in astrology, meditation and life coaching to create a powerful skill set that she can offer to her broad client base.
While astrology is key in keeping her clients enlightened and aware, meditation can then be incorporated to assist them in staying grounded, balanced and fully present. They can be confident and comfortable in the moments when opportunity presents itself or challenges surface. Leslie studied Buddhist or 'mindfulness' meditation in great depth under the guidance of a Buddhist nun. "It is not what goes on during the meditation that counts. It is what goes on after, when you take your work out into the world and function calmly and effectively, that you really enjoy the benefits of this skill". Progress made by meditation can be followed up by lifestyle, wellness and transition coaching.
Andrea Posada – RMT - Registered Massage Therapist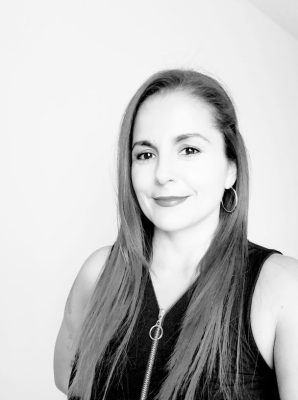 The passion to help others recover, as well as to teach and educate people to reach their health goals, led Andrea to Massage Therapy. After two years of intensive education in anatomy, physiology, pathology, clinic assessment and massage therapy techniques, Andrea graduated from ICT Kikkawa College in Toronto.
With her expertise in Swedish massage, deep-tissue massage, myofascial release techniques, PNF stretches, reflexology and trigger point therapy, Andrea is able to provide relief for a wide variety of issues including postural imbalances, migraines and headaches, back pain, stress, fatigue, chronic and acute pain and injury rehabilitation.
Through her customized approach to treatment, Andrea works with each client to address their specific needs and health goals, using her skills in assessment, treatment, and ongoing communication with her clients.
Andrea loves to meet new people and is looking forward to seeing you at the clinic!
Kyukyung (Alice) Kim - Massage Therapist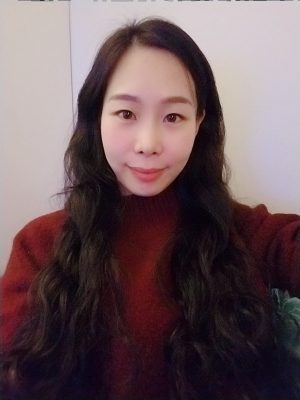 Alice graduated from Centennial College with an Advanced diploma of the massage therapy program. She is passionate about healthy lifestyles and making healthy choices. She strives to provide effective therapeutic treatments tailor to her client's condition by understanding the root cause of the discomfort. She loves the fact that her passion can make a difference in the well-being of her clients and reduce stress through her treatment.
Alice is well versed in treating stress-related conditions and musculoskeletal conditions such as tendinopathy, compression syndromes, and postural imbalance. Her treatment style consists of a variety of modalities including Swedish massage, myofascial release, trigger points, joint mobilization, and rehabilitation exercise.
Gayatri Murthy

Gayatri (Gaya) offers a balanced blend of relaxation and therapeutic massage, including deep tissue and myofascial release techniques, as well as cranial sacral therapy and Reiki. She specializes in low back pain, sacral iliac joint dysfunction, sciatica, knee pain, foot pain, plantar fasciitis, upper back pain, neck and shoulder pain, carpal tunnel, tendonitis, post injury/surgery, headaches, stress, depression, anxiety, and insomnia.
Gaya uses rhythm and breath, presence and attention to activate the parasympathetic nervous system (rest, digest and heal mode) where deep relaxation, healing, and rejuvenation take place. She recommends exercises, stretches and new patterns in movement to alleviate pain and discomfort caused by muscular and nerve conditions. Her areas of study include: Sutherland Chan School and Teaching Clinic – RMT 2006, Cranial Sacral Therapy – Robert Harris, Shiatsu, Reconnective Therapy, Reflexology, Lomi Lomi, Indian Head Massage, Reiki, Herbalism, Shamanic Studies, Equine Massage, as well as Tai Chi and dance.
Member of the CMTO (College of Massage Therapists of Ontario) and the RMTAO (Registered Massage Therapist Association of Ontario)
Dominic Ko - Registered Physiotherapist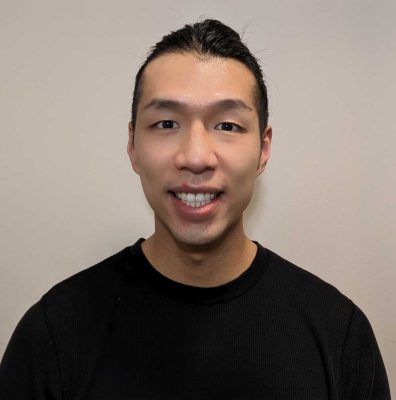 Dominic is a registered physiotherapist with the College of Physiotherapists of Ontario. He graduated from Queen's University with a Master of Science in Physical Therapy and completed a Bachelor of Kinesiology at the University of Toronto. Dominic has trained overseas at The Hong Kong Polytechnic University Rehabilitation Clinic working with varsity athletes. He also works at St. Michael's Hospital under the Heart and Vascular Program and Humber River Hospital.
He has completed numerous post-graduate courses, including Acupuncture and Functional Dry Needling, Lyn Watson's shoulder course, McKenzie method for back and neck pain and Managing Chronic Pain Disorders.
He has experience treating athletic injuries, work-place injuries and post-surgical patients. Dominic focuses on finding the root cause of an injury, patient education and injury prevention. His treatment plan is individualized and consists of manual therapy, corrective exercises and strength and conditioning.
In addition to his private practice, he is a clinical instructor for Physiotherapy Students from Queen's University and the University of Toronto. He is also a cofounder and instructor of the Physical Therapy Development Institute, a recognized physiotherapy prep course for Canadian physiotherapy students.
Dominic enjoys rock climbing, cooking and backpacking around the world.
Rachel Boles

Rachel graduated from the Ontario College of Health and Technology in 2014. She has been working in the massage therapy field ever since. She has mainly worked in clinical practices specializing in therapeutic massage. She also has experience in spa environments and recognizes the benefits of a holistic approach to massage. Rachel is currently studying to complete the acupuncture certification program at McMaster University.
Rachel is interested in many modalities of healing. She has studied cranial sacral therapy, reiki, and acupuncture. One of her main goals is to tailor each massage specifically to her clients' needs in order to promote the most healing possible. She puts a focus on listening to her clients' goals and history to increase the benefit of each session. She has had success in developing long term treatment plans with clients & feels that this can be crucial in maintaining and
encouraging her clients' overall well-being.
The techniques at her disposal include:
● Swedish massage
● Deep tissue massage
● Myofascial release
● Lymphatic Drainage
● Cranial-Sacral techniques
● Hot Stone Massage
● Aromatherapy Massage
Rachel is excited to return to Sage and incorporate acupuncture into her treatments.
Outside of work Rachel enjoys practicing yoga, hiking and learning new recipes.
Momo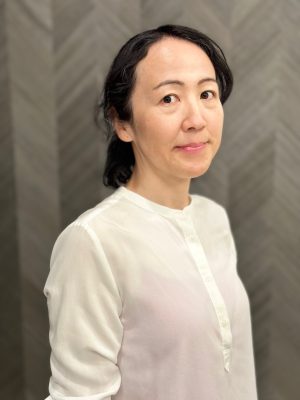 Momo entered the healthcare field after completing her studies at the Shiatsu Academy of Tokyo in 2003.
She graduated from Sutherland-Chan School of Massage Therapy in 2008, since then, has been registered with the College Of Massage Therapists of Ontario, and is dedicated to maintaining a good standing throughout her career.
Momo's focus is on providing holistic treatments that align with her client's goals. She employs a combination of massage therapy and osteopath techniques to address musculoskeletal and neuromuscular issues her clients may be experiencing.
Additionally, Momo is currently pursuing further education to become an Osteopathic Manual Practitioner.